Websites for Artists Workshop
February 26, 2020 @ 6:00 pm

-

9:00 pm

AST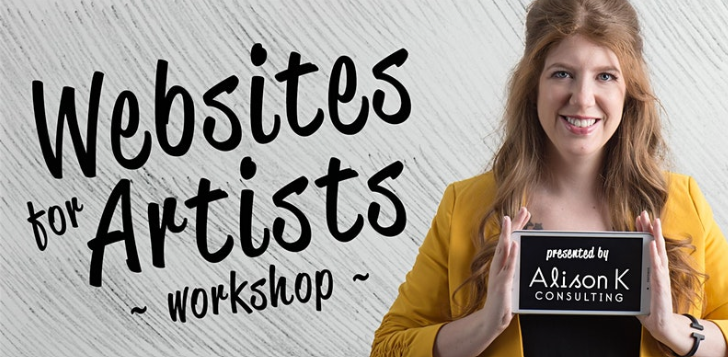 Want more commissions? More gallery shows? Passive income? This workshop is for you!
About this Event
Attention artists!
Do you have a website for your work, but it's not getting the attention it needs? Do you want to put your art online, but aren't sure where to start?
Are you ready to get more commissions, more gallery shows or a larger following?
Then it's time to step away from the computer and get to planning.
Wait… what?
This workshop will not teach you how to build or edit a website.
That's not what you need right now.
What you need is to connect the dots between your goals as an artist and making your website work harder to achieve them. When you have clarity on what you need to achieve, then building/updating becomes 100x easier. And faster.
Realize the full potential of your website, because your art deserves it! This workshop is for any artist, no matter the condition of their website, their technical skill level or their art practice.
What we will cover
Understanding the purpose of your website as it applies to your goals
Peer review of your homepage for instant feedback and ideas
The right way to set up a portfolio of work on the web
How to boost the chances of someone contacting you (galleries, commissions, the media)
Ways to generate additional income and grow your brand/following
SEO (Search Engine Optimization) in a fun and jargon-free way
Who this workshop is for…
Fine artists, visual artists and other folk who earn (or want to earn) income from their art.
Who may or may not already have a website (doesn't matter what platform).
And are comfortable browsing the internet, using their computer and talking openly about being online. This is a workshop about intent and strategy, not jargon and coding. You don't need to be techy in the slightest, however you must be comfortable giving and receiving constructive feedback.
About The Facilitator, Alison K
Alison K (Alison Knott) is an artist-turned-designer-turned-consultant (who still draws every chance she gets). She is an international speaker who's passionate about the intersection of web, creativity and business.
Her presentations are an unusual blend of high-octane enthusiasm and actionable lessons. Boring tech jargon has no place in her talks!
In addition to public speaking, Alison has held teaching positions at NSCAD University and NSCC IT Campus. She is also the founder of The Creative Kick, a monthly meetup for commercial and visual artists to socialize and deepen their creative drive.
Register