Celebrating a Year of Growth in Tech with Digital Nova Scotia
December 8, 2022 @ 2:00 pm

-

4:00 pm

AST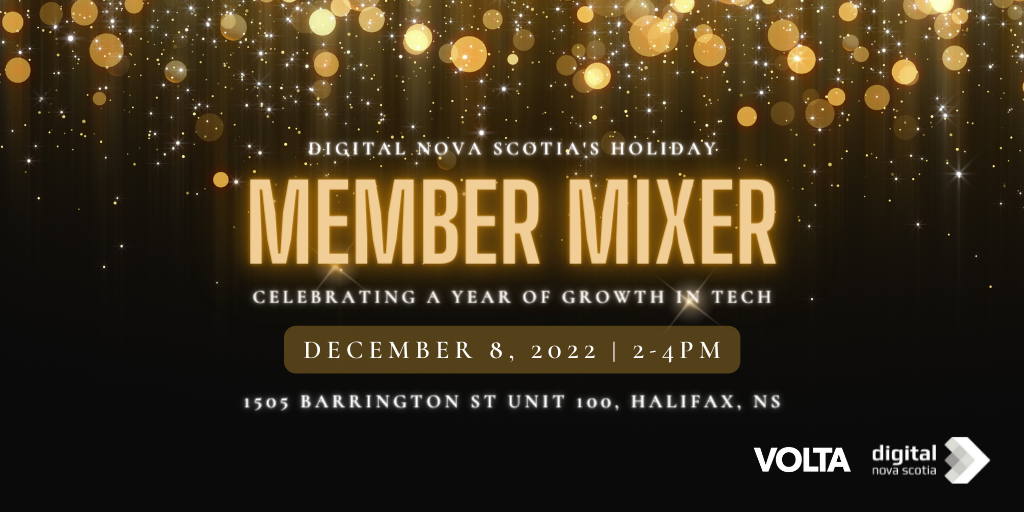 Celebrating a Year of Growth in Tech
Join us for an engaging panel of industry leaders as we hear stories, successes and milestones of 2022. Our panelists will share benchmark business growth moments, trends they see coming, and more! 
This is the perfect opportunity to come together and connect before the holidays, we'll have a hot chocolate station, treats, and festivities. We can't wait to see you! 
Special thank you to our friends and partners at Volta for hosting us. 
Panelists
Adline Noronha, CGI
Adline Noronha, CGIAdline is a seasoned leader with 20 years of rich experience in leading strategic IT engagements. Her expertise is in leveraging IT to complement enterprise strategies and business operations. Adline is a Certified Program Manager with extensive experience in technical program management, IT service delivery, ERP implementation, business process modelling, management consulting, PMO set-up, operations planning for multimillion-dollar programs. Adline is also an advocate and enlighten leader on Diversity, Equity & Inclusion and is focused on building inclusive equitable spaces, inspiring inclusive behavior and cultivating culture to Thrive at CGI.

Marty Stevens, Believeco
An experienced marketing professional, Martha (Marty) has extensive experience in government and public sector environments. Prior to moving into professional services in 2019, Marty held senior leadership positions with Bell Canada, Atlantic Lottery Corporation and Tourism Nova Scotia. Marty's business experience has provided the opportunity to lead successful transformation and corporate renewal initiatives across distinct sectors in telecommunications, lottery and gaming and tourism. She has an excellent track record for translating visions into action; leading others to succeed in strategy development and execution; and her ability to adapt when faced with ambiguity and external market pressures.
Marty's approach to strategy development is a framework informed by market insights, consumer behaviour trends, product and service attributes, and messaging and creative strategies translated into actionable
programs with measurable business outcomes. Marty holds a bachelor's degree from McGill University, executive leadership training with Queen's University, is certified bilingual and an active community volunteer, having served as Chair of the Atlantic Canada Tourism Partnership, board member of Discover Halifax and current board member of Soccer Nova Scotia.
Lydia Sayeau, 360LAB
Lydia Sayeau is a bit of a jack of all trades. With professional degrees in both Photography and Graphic Design, she started out getting real world experience with marketing agencies, non-profits and tech companies in Toronto and Halifax. Lydia's entrepreneurial drive had her switch gears in 2019. She is the Co-Founder/CEO of 360LAB Inc., a virtual reality video production company and Co-Founder/COO of New Brooklyn Media Inc., a traditional video production company that works in tandem with 360LAB. Her knack for organization and her commitment to personally connecting with her clients has given both organizations a recognized track record for quality, trust, authenticity, and creative thinking.
360LAB is a leading virtual reality video production company creating immersive real-world storytelling experiences in the virtual reality world. VR Video is an innovative and immersive tool that can be viewed online, in VR headsets or from a smartphone. Some of their clients include Tourism Nova Scotia, Nova Scotia Business Inc. and Parks Canada. The sky's the limit to this technology, and 360LAB is here to help their clients leap into this exciting and ever emerging technology.
Shaji Zaidi | Introhive, Director, Professional Services
Shaji Zaidi is a solutions-focused leader and an entrepreneur with a proven track record in aligning IT strategies with business values, delivering critical programs, and leading teams to success.
With over twenty years of senior management experience, Shaji has successfully built programs and developed technology solutions to meet customer's businesses and operations requirements.
Shaji's leadership and management expertise span a range of industries including capital markets, healthcare, telecommunications, enterprise security, financial transaction processing and oil & gas.
Shaji is also an aspiring vigneron in the throes of establishing a vineyard in the beautiful Gaspereau Valley wine country of Nova Scotia.